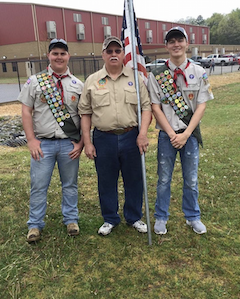 Content Count

3

Joined

Last visited
Community Reputation
0
Neutral
About RyanRosier
Rank

Junior Member


Birthday

October 7
Profile Information
Gender
Location
Occupation
Interests

Hiking, Camping, Trap, Scouting and Xbox

Biography

20 Year Old Eagle Scout from small town Arkansas. I have a beautiful wife. Father to be, Eagle Scout and Proud Member of the NRA.
About Me
As a law abiding citizen, someone who has never committed anything more serious than a traffic violation, someone who has never harmed another human, an Eagle Scout, NRA member, Thin Blue Line supporter, proud father to be and blue collar worker Ryan Rosier never expected to be staring down the barrel of a loaded gun and being thrown face first into the pavement while police refused to answer any of his questions. On December 30th 2018 Ryan was pulled over for what police say was improper lane change and upon approach of his vehicle noticed a box under the passenger seat with the words "Tarus. Making Better Guns." written on it giving them probable cause to search the vehicle under suspicion there would be firearms in the vehicle. Police body cameras and dash camera footage will show this to be totally false. Police approached him guns drawn, reached inside of his car, unlocked it and proceeded to jerk him out and shove him to the ground. Police searched the driver side and then searched the passenger side. When police didn't seem to find whatever it was they were looking for inside the car they then moved to the trunk and searched in there. Which is odd, because their report says they saw it upon approach under the passenger seat, why the need to leave the passenger side to search somewhere else if you say you seen it there already. Unsatisfied they returned to the interior of the car and pulled from under the seat his brand new, unfired, tag still attached and unloaded .357 revolver which he LEGALLY purchased and owned. When Ryan mentioned to them the officers didn't tell him their name when he was stopped or why he was stopped he was ignored. When he mentioned to the officer as he reached inside his vehicle to unlock it that the officer couldn't do that just for no reason he was ignored. While standing there with cuffs slicing his wrists and blood running down his knees and chin he was polite and asked the officer what all of this was about and he was told "We will explain it to you in a bit." He was incarcerated and charged with felony possession of a loaded firearm. Now at the start of his adult life corrupted interests and infringed 2nd amendment rights have cost Ryan his job leaving him unable to provide for his pregnant fianceée, maintain his bills and caused him drastic mental distress and worry about how he will support him and her, prepare for the baby, pay their bills and still manage to pay for a lawyer to defend him which alone will cost upwards of $15,000 to fight such a case. A GoFundMe has been set up for the family and can be found at https://www.gofundme.com/help-ryan-get-justice&rcid=r01-154796188922-0a1318e885284f18&pc=ot_co_campmgmt_w and anything will be greatly appreaciated by the family.